How might tech support communities to carry out collective decision-making and collective design?
Collective decision making
In this short project, commissioned by the National Lottery Community Fund, we set out to answer the question:
How might tech support collective design and collective decision making?
Why collective decision-making?
For too long, initiatives to help communities have taken a traditional, top-down approach. Decisions are made by people distant from the issues of the community. Power is centralised, away from the community at need.
This approach has proven ineffective at creating meaningful change.
In its recent report, "Why don't they ask us?", The Institute for Community Studies found:
Interventions have consistently failed to address the most deprived communities, contributing to a 0% average change in the relative spatial deprivation of the most deprived local authorities areas.
They go on to conclude:
… what is needed is an effective 'upward transmission mechanism' that draws the views of local communities directly into the decision-making centres where these funds are designed, distributed and evaluated.
It is therefore essential to understand, support and encourage collective decision-making.
Participatory Grant-Making
Participatory Grant Making (PGM) is a form of collective decision-making. Decisions about how to award grants are made directly by people with experience of the theme the grant is aiming to address.
The National Lottery Community Find is carrying out its own experiments with PGM. Further, it has an ambition to support the growth and innovation of the practice:
…we are in a position to shape how the field grows by also looking at how to innovate it as a practice, and ensure it is making use of what technology can afford.
The global community of PGM practitioners are expert in their approaches however there is a gap in knowledge about digital, data and technology, and the ways that it could be used to further the potential of PGM.
The vision of an end-to-end experience
The vision for the project was to develop an "end to end" prototype to illustrate how tech could support collective decision making.
The prototype illustrates an imaginary organisation where hundreds of local people make decisions each month to award a micro-grant.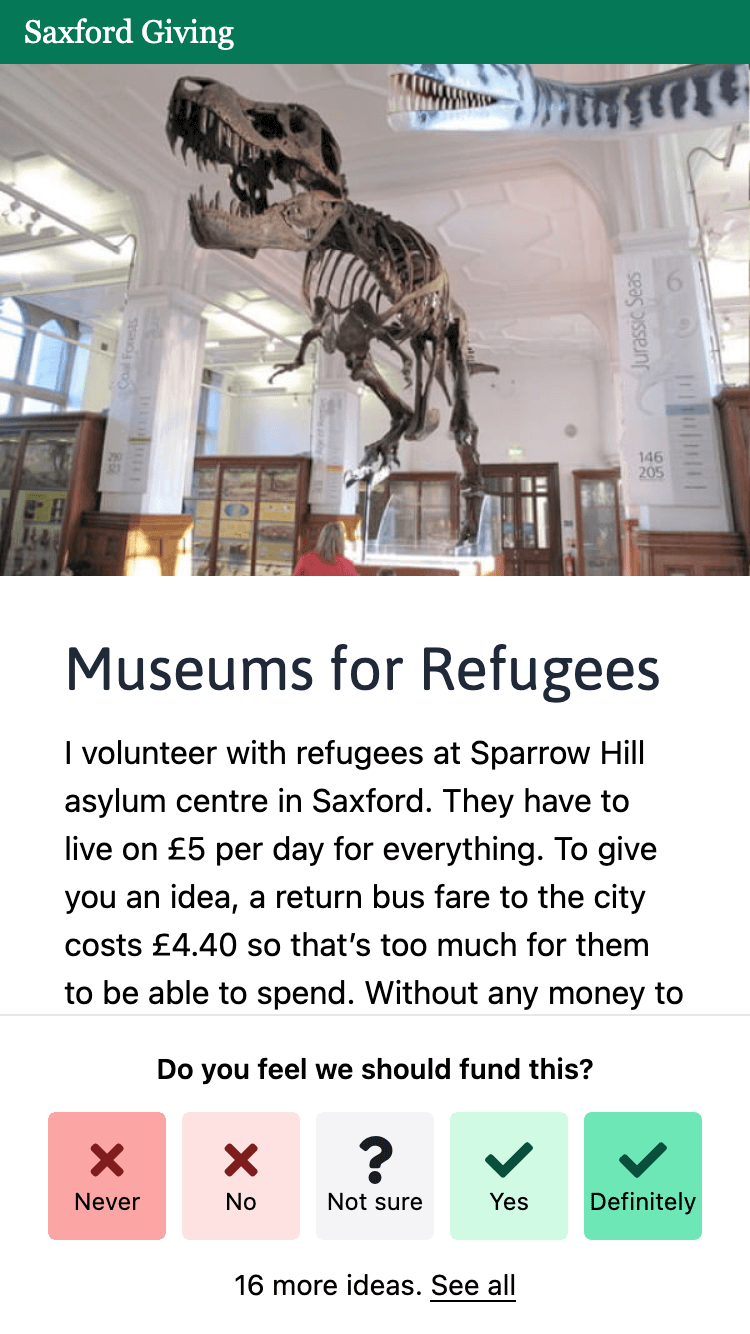 End-to-end means it's more than just a transaction but rather belonging to something, bringing overall coherence to the experience.
By learning to understand each other, working together and making decisions about their community together, a community develops **collective wisdom. **This grows over time, strengthening the community in a virtuous cycle.
As communities strengthen and learn to imagine together, the quality of projects, ideas and interventions can improve. Truly radical and transformative projects start to become a real possibility.
The final piece of the jigsaw is building the strength of local communities themselves to better engage in the levelling up process. We have already seen that areas with more community-owned assets were more likely to form mutual aid groups during the pandemic.
Digital product design
Although we've worked in community-building in various forms, our background is in digital product design.
Our purpose was to apply a product design lens to existing practices and look for opportunities where tech could build on existing practices or supercharge communities.
We're under no illusions: technology isn't a magic bullet. But deployed thoughtfully, tech has the potential to include vastly more people and operate at a substantial scale.
10x opportunities?
Early in the project we asked ourselves, what might digital tools bring to the table?
Are there any ways in which tech could make things 10 times better compared with what was there before?
Here are our ideas from the very start of the project.
10x more transparency in discussion and decisions. Digital tools could publish everything by default. Transparency improves trust and confidence, helps communities understand funding, and improves the quality of future applications.
Supports 10x more people involved in decision making. Digital tools could reduce the obstacles to participation (like attending a physical meeting). More people involved in decision making could lead to greater diversity of the people making decisions and reduction of bias.
10x easier to peer-review - Digital tools could simplify the peer-review process, opening it to a larger number of peers, reducing the required commitment and energy required to be a peer reviewer.
10x easier to apply - Digital tools could make it dramatically easier by offering user-centred forms, offering different ways of applying e.g. video interview. This could widen the number of applicants from the "usual suspects"
10x better communication between communities and fund staff. Digital tools could provide guidance within the tool to help applicants submit "higher quality" applications first time.
10x more comments and opinions from communities about applications. Digital tools could reach a larger number of less-engaged (but still very important) people.
We ran 11 interviews
Over the project, we interviewed 11 people from organisations involved in collective design and decision making.
From the interviews, we collated pages of insights. Finally, we made a clickable prototype of a fictional micro-granting organisation, Saxford Giving. This allowed us to illustrate our design recommendations and propose ideas about how things could be done differently.
In this writeup, we'll walk you through each screen of the prototype. We'll highlight design decisions in the prototype and try to explain the thinking and research behind them.
We won't shy away from offering opinions based on our product design experience. At the very least, we hope to provoke some thinking and discussion.
Finally, all the raw material we created during the project is available in our weeknotes. We used these to publish our thoughts and progress, every week, in the open. There's a lot of detail in there that didn't make it into the writeup.